[ad_1]

Bolivia is great.
May I make one thing clear before something else is written? I had my concerns and doubts about safety there – before leaving AustraliaI wouldn't have gone further South East Asiain tourist hotspots such as Phuket and Bali. On the first day of walking through La Paz, I tied my camera cord to my belt. After a few days, this mental behavior died away.
Other articles you can read:
I was met by warm, welcoming exchanges with every Boliviano I encountered. The best way someone described it was "when you travel to certain places you can see it in their eyes" [that they don't feel positive about you]. Here it is different. You don't feel that here." This idea sounded true for the duration of my time there.
Now you can of course read some wonderful guides about Bolivia here and here, but this one is a little different. My wife and I spent 10 days in Copacabana, La Paz, Uyuni and Potosi. It was a 4WD tour of the salt flats, sandwiched by short stops on the highest lake in the world, in a mountainous urban sprawl and modest mining environment.
we traveled across the border from Puno in Peru, moving around the southern edge of Lake Titicaca. The crossing process was not as difficult as it was for some travelers from the United States who were on our bus and felt $160 lighter in the pocket.
We have arrived in Copacabana in the early afternoon and had just missed the second boat to Isla del Sol so we decided it was a write off day as there was very little to do in the town itself.
A piece of advice for anyone who decides to check out the nightlife there – my friends and I went for a few drinks after dinner but got a power outage across the city at 9:30am. We waited a while but saw all the shops close for the evening. We took this as a sign that it wasn't going to happen any time soon; look and behold, the power returned 12 hours later.
After a 90 minute boat ride we were met by an island in the lake which was a sight to behold. Isla del Sol had a few ancient ruins on the island, some of which were too difficult to access.
However, the main reason we visited was this picturesque view of the Andes (camera doesn't do it justice).
Dinner should be determined by how breathless you find yourself walking up the hill to find a restaurant. However, the pigs and donkeys will make you find the wind to laugh.
We then traveled to the north of the island, where there was a much more relaxed atmosphere. After checking in for the night, we sat on the beach inland and watched the day go by as pigs, sheep and geese were brought home from grazing for the day. It was a funny event; I almost had to pinch myself. Sitting on the highest lake in the world, watching farm animals herd along the beach – it's not something you see every day.
Our next stop was Peace, built into craggy mountains that have the frenetic pace of life you'd expect from Bolivia's largest city. There are some signs that it is a city that respects the traditional aspects of its culture, with an eye on progress in the future.
The Witches' Market is located in the center of the city and is a one-stop shop for tourists and medicine men, or where we are, equal. It gets its name from the unusual line of products it stocks – llama fetuses, powdered potions, amulets and medicinal plants. The potions are believed to be used to cure all sorts of ailments, from cancer to lost libido. Traditionally, the llama fetus is buried as part of a ritual when a house is being built. This neighborhood is also a good place to shop for those clichéd Andean tourist numbers like llama sweaters and ponchos.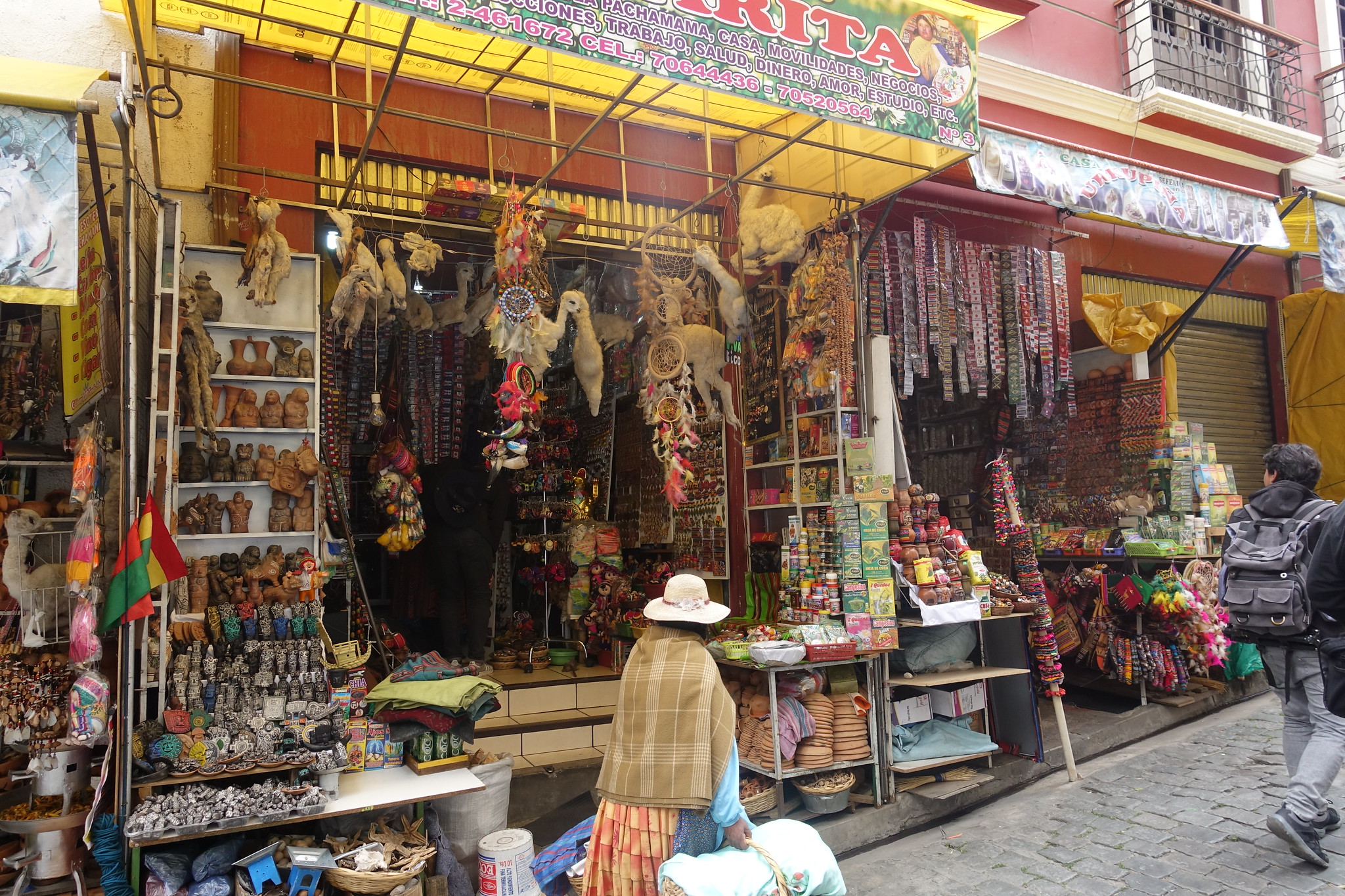 Just a short walk is the Mercardo Lanza. Here you can find your B10 menus (where else can you pick up a two-course meal for $2?) and freshly blended juice the size of your head.
A glimpse into the future while in La Paz, take a ride on the teleferico, or funicular. While most of the city's architecture and structures look a bit run down and dare I say the funicular is dated, it's different. The thrill I felt walking through the station was no different from when we visited Tokyo a few years ago – crazy to say, but, futuristic.

We took the car up to get a great view of the city. As we took in these views, we were met by a friendly local who told us about the car wedged into the rocks at the top of the hill, claiming the funicular is good for the city.
He also told us about the shop he had at the Witches' Market. Although it did not sell special love potions, it did sell exotic musical instruments from the Andes. As a bedroom instrument lover, I promised to drop by the next day.
I met Agustin in his shop as he was assembling a traditional flute. His range was extensive and the passion for these instruments was immediately apparent. He's been making them for over 15 years and playing them for over 35 years. After attempting to communicate through my roughly spoken Spanish, I soon learned that he had been performing in Europe for almost 10 years.
He was no small musician either – he had played in Paris a few years ago for the Independence Day celebrations. It was an honor to meet such a down-to-earth man and talk about music with him.
We went to Uyuni by bus and train, a bumpy experience. At this point I want to let the photos speak for themselves.
This provided a chance to visit iconic, well-known images such as those of the salt flats, flamingos and the red lagoon.
We also saw a steaming geyser at sunrise.
The sites are so good you don't need an English speaking guide. It's also a great way to practice your Spanish.
Our last stop after a few hours of watching the Hobbit in Spanish on a bumpy bus was the mining town of Potosi. If you need to be somewhere, it's really worth staying there for a day or two. No disrespect to "Potosians", but mines aside, there isn't much experience here. The main square was a pleasant way to spend a few hours watching the world go by, but other than that the most exciting thing we saw was a dog stealing meat from a market vendor and watching the other vendors laugh. I felt sorry for the seller, I swear!
The city has the world's largest silver deposit and has been in operation since the sixteenth century. The tour of the mines was an interesting day – it had a commercial and raw element at the same time.
The touristic aspect was felt by the order of the day. Go to a tour office, hop in a van to another office to jump into bright red overalls and hard hats. Then it goes to a shop whose specific purpose is to sell "gifts to miners" such as chewing coca leaves for energy and dynamite. After a tunnel through mines and back to our hostel, the four hours passed in a flash.
There was also a raw aspect to the visit, where offerings would be made to idols of Mother Earth at intervals throughout the tour. This is to ensure that they have the right to get the silver from the mountain and that she will continue to bring good luck. Offerings of alcohol, cigarettes and coca leaves are scattered at the feet of each of these idols.
The tour also gave a glimpse into the hardships these miners endure. While underground, we witnessed a colleague smash sticks of dynamite into the earth, and were told that two to three men a month die from collapses.
We were also told about the pittance that these men get paid, but the miners had little choice as there are few other jobs for them. Gloomy content that brought home what many men in the area have to endure.
Peace, Uyuni and Potosi are great sites to visit for several reasons. The culture, history, landscapes and people are a fascinating mix that makes Bolivia a great place to visit.
About the contributor:
Fredrick JohnstonFred is a writer from Central Australia who writes about travel insights he hopes other people will find interesting. Currently traveling across America on an extended honeymoon and looking for new things to write about. Drop him a line on twitter @FreddyKuma.
THIS IS A REGISTRATION FOR THE 1ST ANNIVERSARY TRAVEL WRITING COMPETITION TRAVEL FROM TWO MONKEYS


[ad_2]

Source link