[ad_1]


Published: 2022 • 09 • 21
One of the countries I almost desperately wanted to return to is South Korea. So when the Korean government announced it would finally accept tourist visa applications again, I was the first to book flights.
The problem is, Korea is an extremely popular destination, especially among Filipinos. While the Korean embassy in Manila is still trying to get back to normal, visa applications have started to pile up. But that is not everything. The embassy also posted a warning against submitting falsified requirements such as certificates of employment, bank certificates, ITR or other documents, implying an increase in questionable documents it receives. According to the travel agents we spoke to, the embassy has become stricter and more careful in assessing applications as a result.
All this led to the embassy limiting the number of applications per day. Walk-in candidates formed long lines the night before to make sure they made it to the border. I know this because I've tried it several times! I queued for hours to be told they could not accept my application as they had already reached the quota of the day.
Fortunately, the Korean Embassy recently launched an online appointment system! The good news is that applicants no longer have to physically queue. The bad news is that, as with any new system, it can still be quite confusing. Fortunately, I was able to successfully reserve a slot while documenting the entire process. In this article, I will share with you exactly how to make an appointment for a visa application at the Korean Embassy.
But first a few reminders:
Make sure you have the following with you:
– a working email address. You will need this to retrieve an authentication code.
– your passport details, in particular your name and passport number.
You can ONLY schedule an appointment for yourself, parents and children. Outside of these conditions, it is not allowed to apply for a group or other persons.
The best time to book is Tuesday, when the embassy opens the places for the coming week. However, some places become available on other days if other applicants or the embassy itself cancel their appointment.
Use Google Chrome. I find it more compatible with the website than other browsers.
Be quick. The number of slots decreases QUICKLY and within a few minutes they are all gone.
This guide is for individual applicants only. You can also apply through a designated travel agency.
Here's how to make an appointment with the Korean Embassy for a visa application:
WHAT IS COVERED IN THIS MANUAL?
You can find it on https://consul.mofa.go.kr/en/main.do.
Under the tab REQUEST A CONSULAR SERVICE, click BOOK TO VISIT A DIPLOMATIC MISSION. This is the first button under this tab.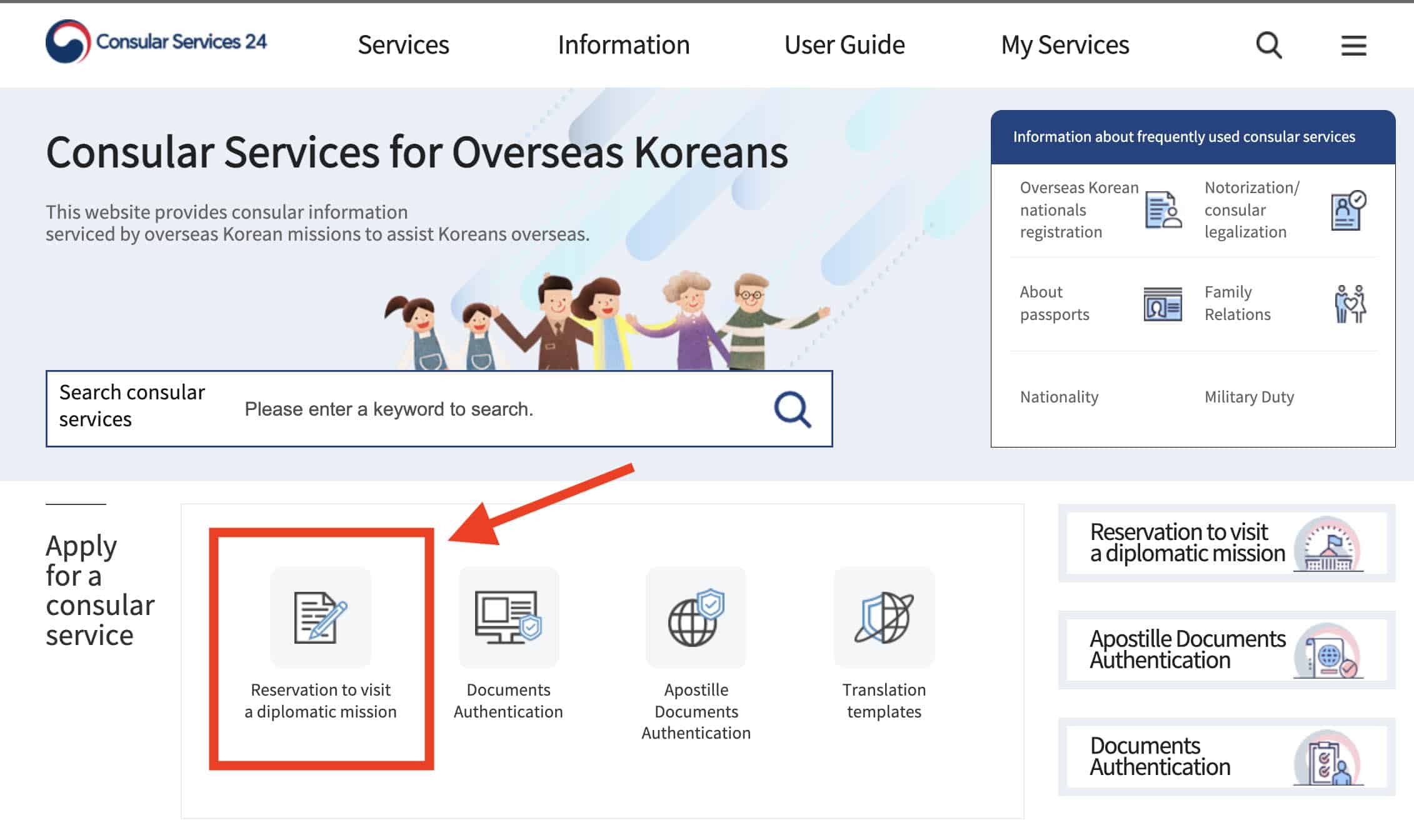 ---
A popup will appear on the next page: Log in as a non-member to access this service. Click OK. Then follow these steps.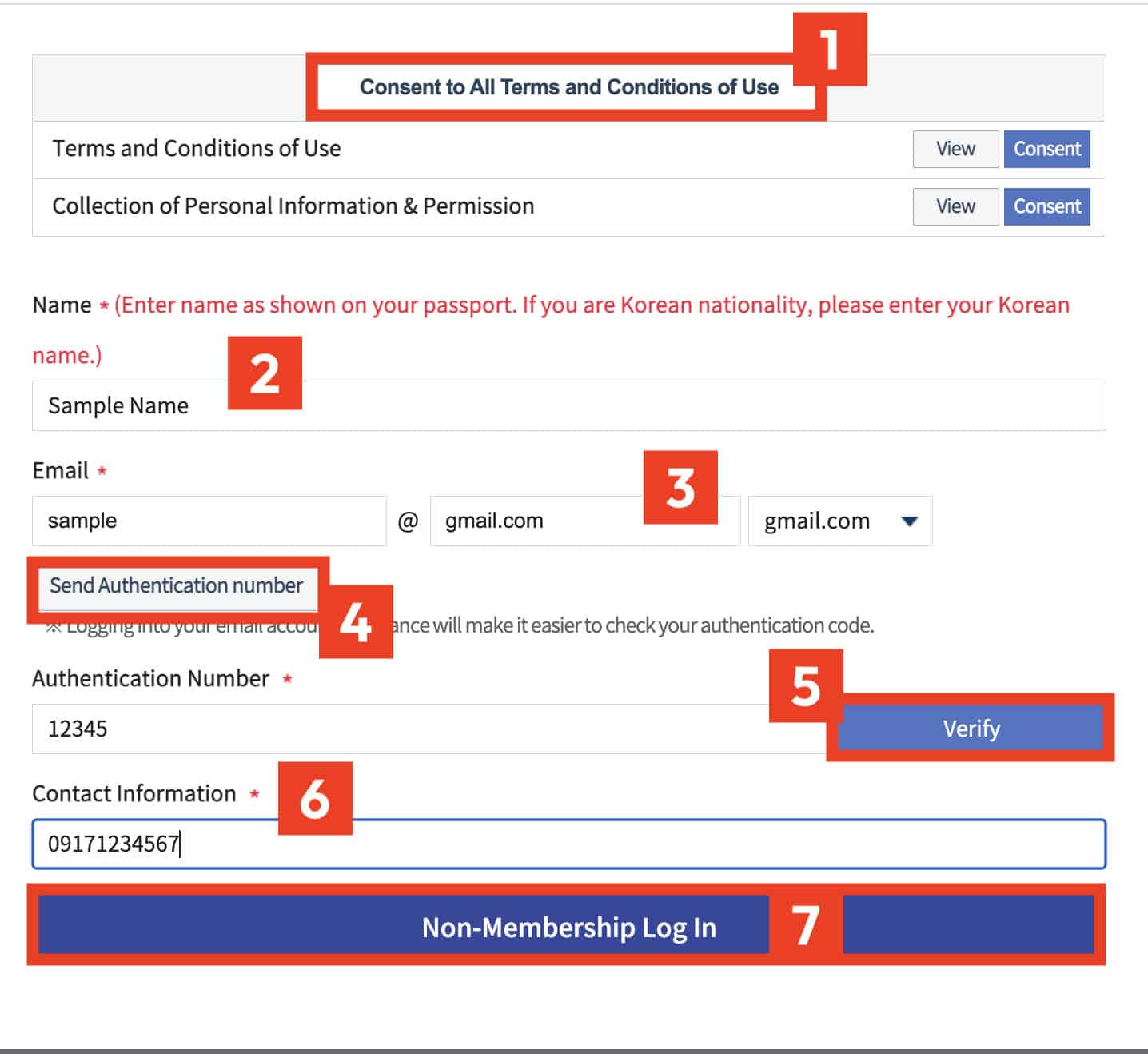 On the login form, click the CONSENT WITH ALL TERMS OF USE button. It will display the conditions. Read and scroll down then click TO CONFIRM.
Enter your name as indicated on the passport you will be using.
Enter your email address.
Click SEND AUTHENTICATION NUMBER. The system will send a code to the email address just entered. It usually takes a minute or so, but during peak times it can take as long as 30 minutes.
Enter the authentication number you received and click VERIFY.
Enter your phone number or mobile number under contact details.
Click LOG IN NO MEMBERSHIP.
---
Before reaching this type, you may first be redirected to a virtual "waiting room" depending on how busy the visitor traffic is at the time. The page shows you how much time (in seconds) you have to wait before going to the reservation page.
Choose the following on the reservation page: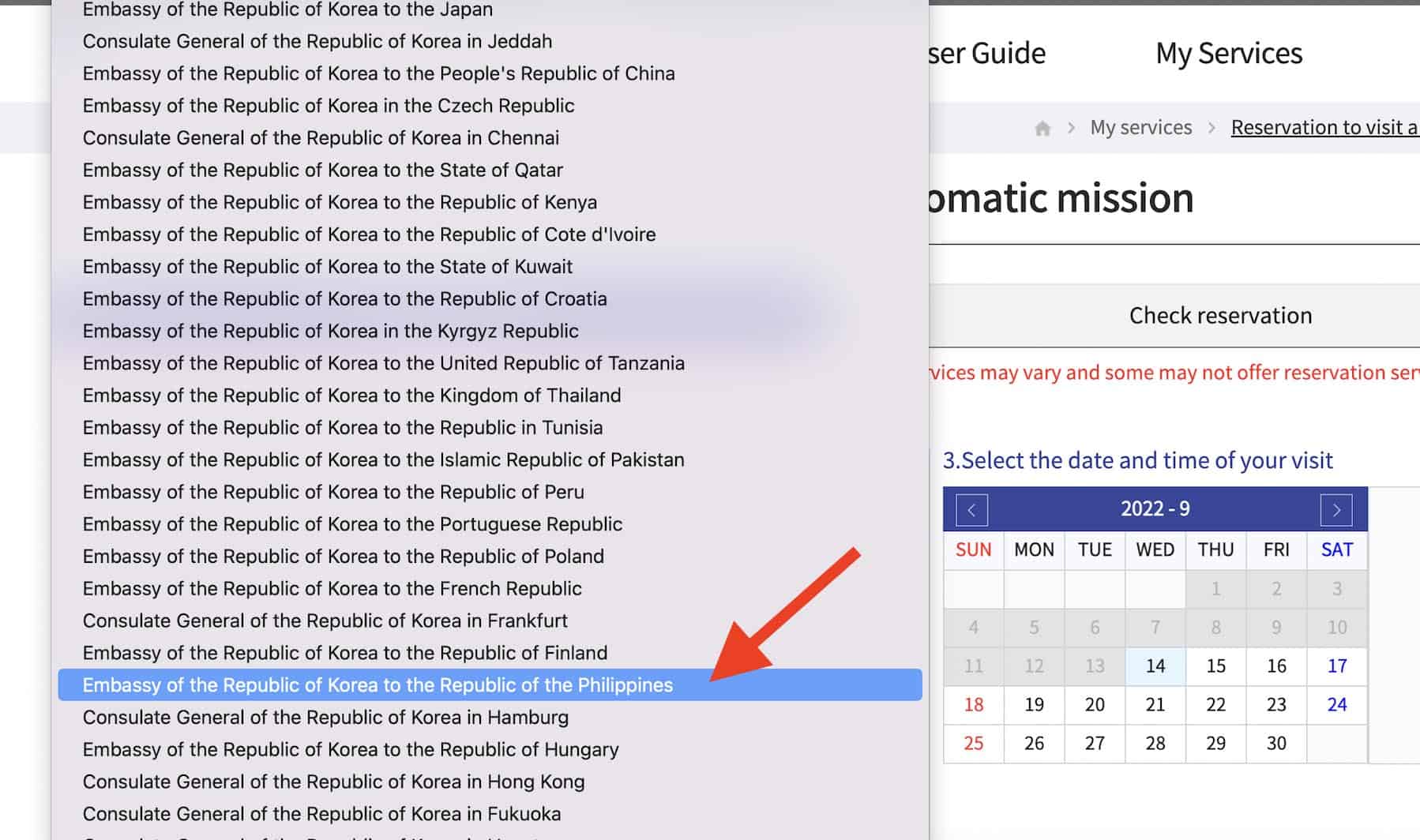 Under SELECT A DIPLOMATIC MISSION, choose EMBASSY FROM THE REPUBLIC OF KOREA TO THE REPUBLIC OF THE PHILIPPINES. This is the Korean Embassy in Manila. (It's at the bottom of the list.) Note that there are two Philippine missions on the list. The other is the Consulate General in Cebu. Make sure you choose the right one.
Under SELECT A CONSULAR SERVICE, choose VISA (INDIVIDUAL APPLICANTS FOR TOURISM). And then, below that, check the box next to VISA (INDIVIDUAL APPLICANTS FOR TOURISM). It is the only selectable box.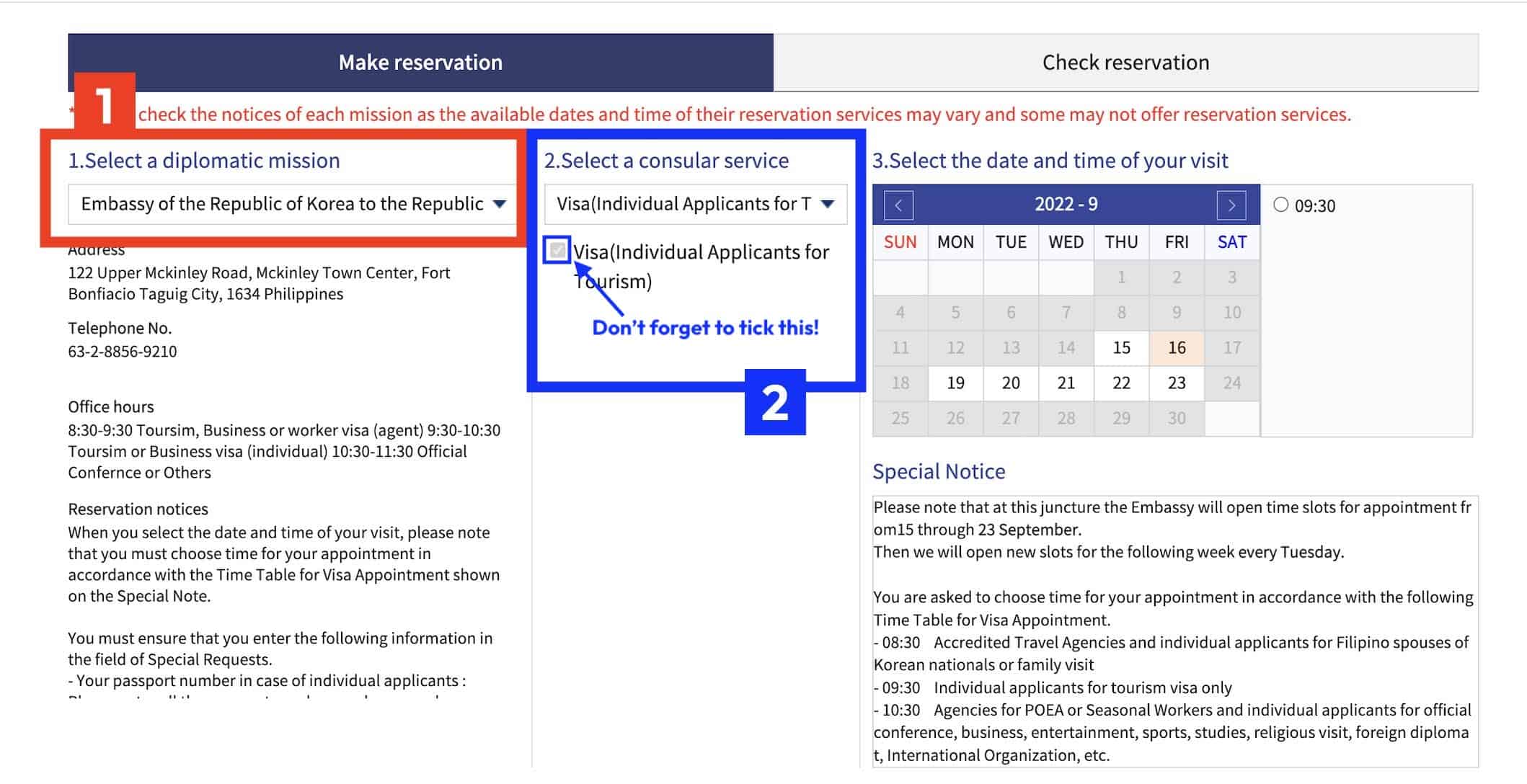 ---
You will see that not all dates are clickable. The grayed out dates cannot be selected. Choose a date.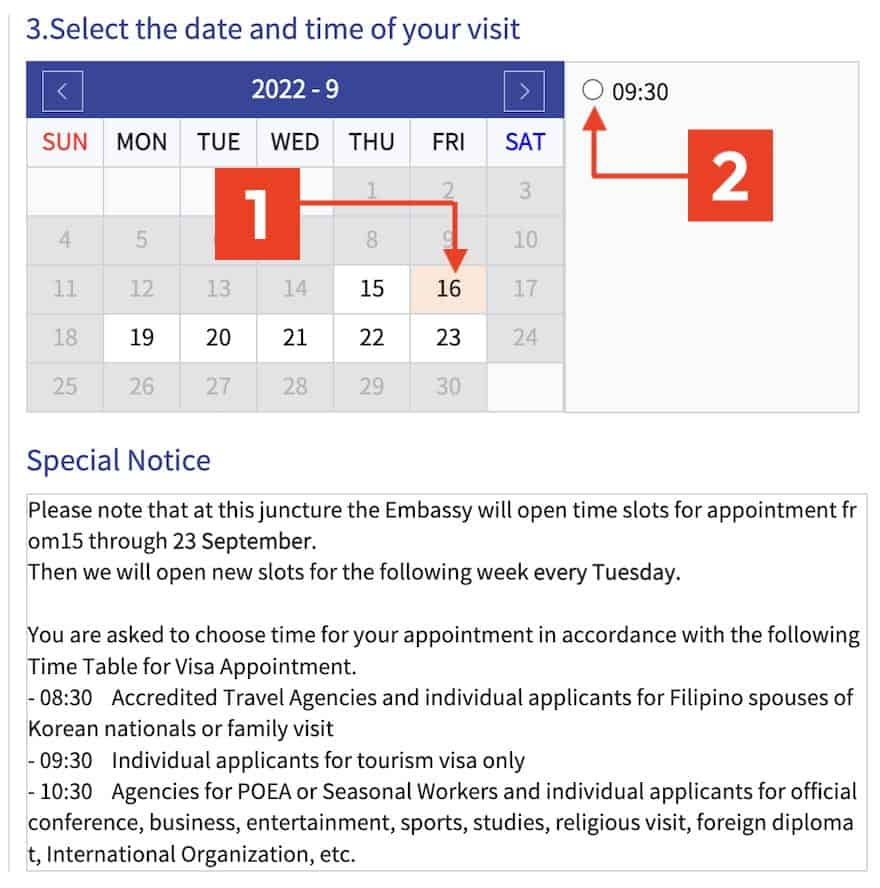 After choosing a date, click the radio button next to 09:30. This is the only available time of submission for tourist visa applicants. These are the time formats:
08:30 AM – Accredited Travel Agents and Individual Applicants for Family Visits and Filipino Spouses of Korean Citizens
09:30 AM – individual tourist visa applicants only
10:30 AM – agencies for PEA or seasonal workers and individual applicants for official conferences, entertainment, sports, business, studies, religious visit, foreign diplomat, international organization, etc.
Even though this is the only option, don't forget to check 9:30 AM. Otherwise you will not proceed with the next step.
If all dates are grayed out and not clickable, it means there are no more available slots at that time. You can wait and keep renewing.
NOTE: The Embassy opens slots every TUESDAY for the coming week only. This makes Tuesday the best time to try and get an appointment. However, this does not mean that you cannot find a lock on another day. Sometimes the embassy or the applicant themselves cancel their appointment, leaving new places up for grabs.
---
️ Enter your passport number under SPECIFIC REQUESTS! If you also request your parents/children under this agreement, you must fill in all your full names and corresponding passport numbers.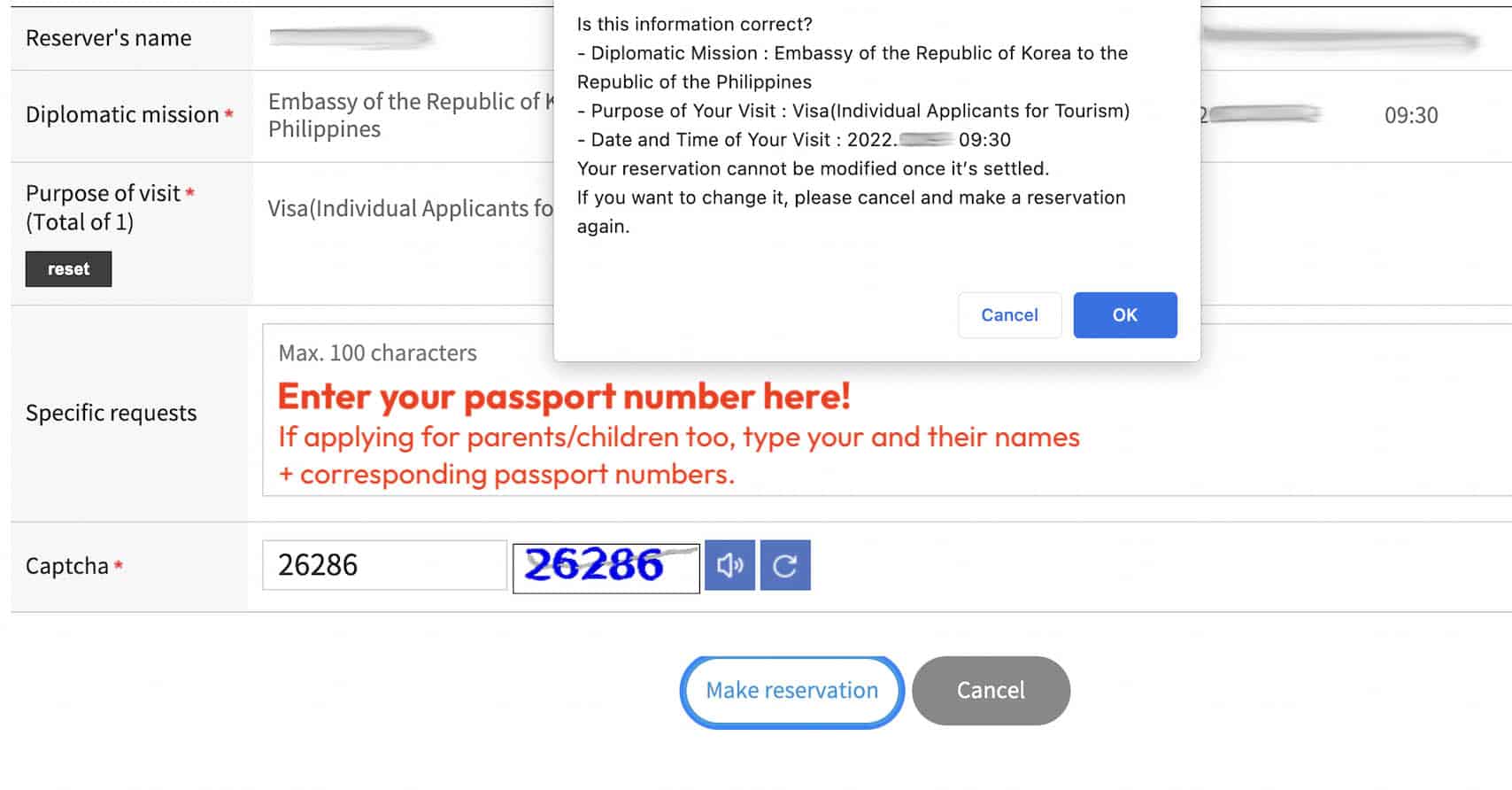 If you do not complete the SPECIFIC REQUESTS field, the embassy will automatically cancel your appointment and you will have to find a new lock. I learned this the hard way, so don't make the same mistake.
If everything is OK, type in the CAPTCHA code and click TO RESERVE.
A note appears. Check that all details are correct. You cannot change it after that. If you want to change something, you have to cancel and make a new reservation. If everything is correct, click OK.
---
You will be taken back to the RESERVATION page, where your scheduled appointment will now be displayed. Click PRINT on the far right under RESERVATION PROOF.
It looks like this: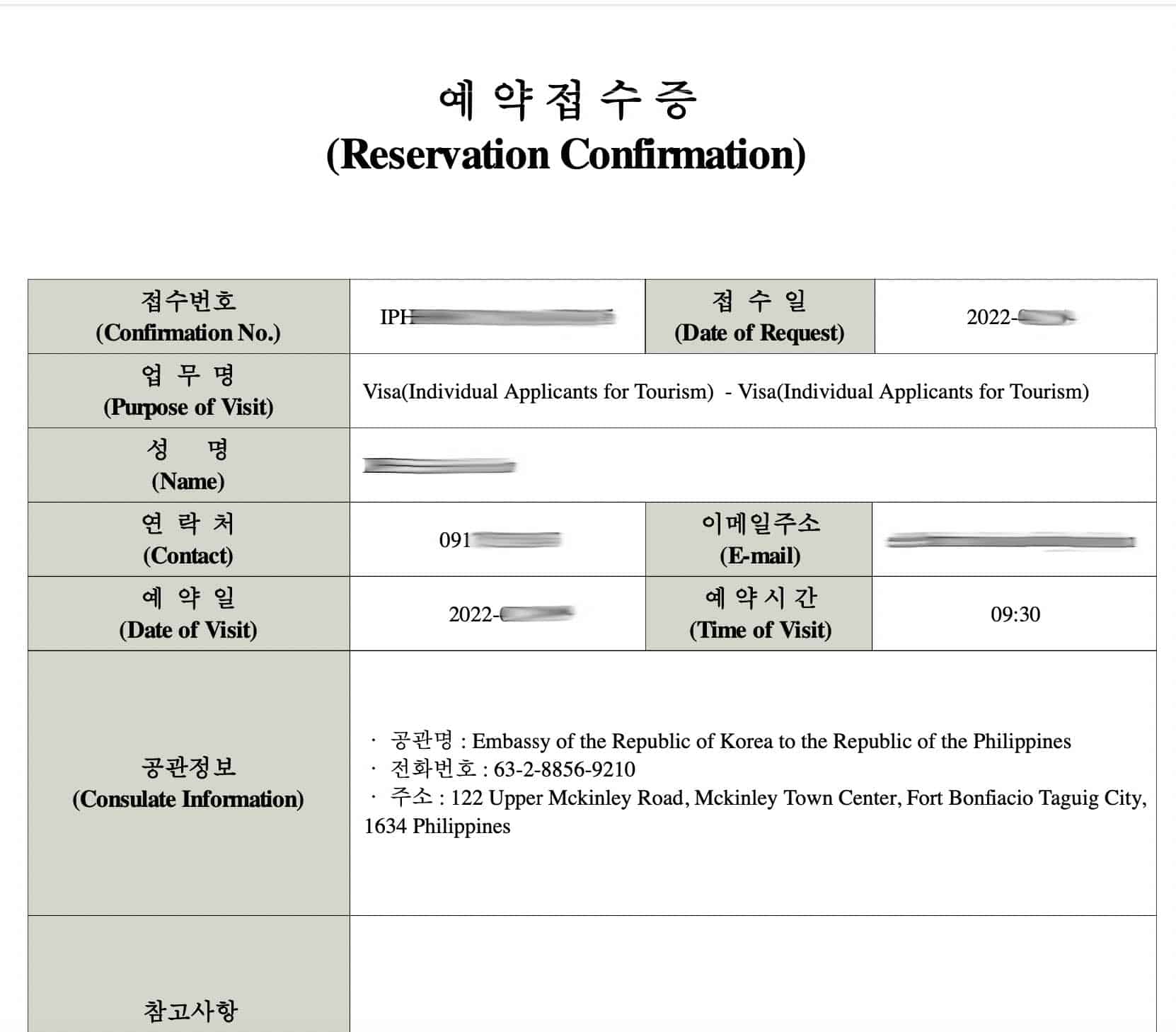 ️ IMPORTANT! Don't forget to print or keep a copy of this receipt. They will check it when you visit the embassy on your appointment date. Without this you will be denied access to the site.
You will also receive a confirmation by email.
---
Bring the following: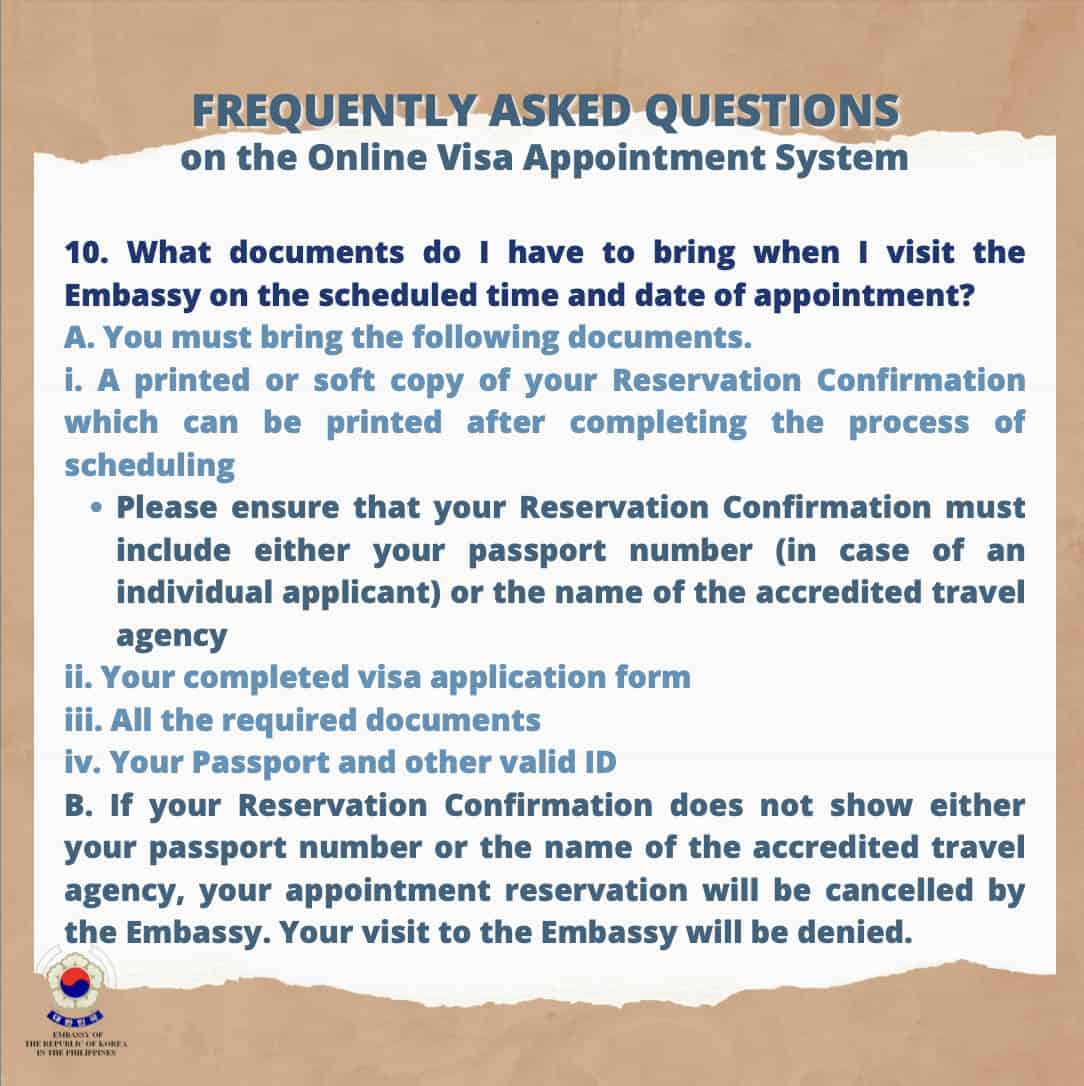 a printed or soft copy of your booking confirmation
Completed visa application form
Passport and identification card
All other required documents
️ IMPORTANT! Only the visa applicants themselves whose name and passport number appear on the reservation receipt are allowed to enter the embassy. If you are caught requesting someone other than yourself, your parents or your children, you will be blacklisted by the embassy.
---
I haven't made an appointment. Can I still make a walk-in visit to the embassy?
NO. Walk-in applicants will no longer be accepted regardless of the type of visa you are applying for.
An appointment is required to enter.
I can't find a lock. Is there another way to apply for a visa?
YES. You can apply through a designated travel agency. They get their own slots and hours.
However, agencies are also subject to a certain quota or limit set by the embassy. Depending on the number of applications, travel agents may choose to decline applications, especially if your travel date is approaching.
Do I still need to make an appointment online if I apply through a travel agency?
NO. The designated travel agency must make the appointment on behalf of you and other applicants.
Can I make an appointment for my spouse (husband/wife) or siblings (brother/sister)?
NO. You can only request this for yourself, your parents or your children.
Someone asked this question on the official Facebook page of the Korean Embassy. By law, husband and wife must make separate appointments. I know it sounds clunky, but here's a screenshot:

All published communications from the embassy only mention parents and children. Spouses and siblings are not included, even if they are also immediate relatives.
The Embassy adds: "Your appointments for your cousins ​​and other relatives will be canceled by the Embassy."
Can I make an appointment for my friends who will be my travel companions to Korea?
NO, they have to arrange an appointment themselves, even if you are traveling together.
Each applicant can only book for themselves alone or for a parent or child. If your partner is not a parent or child, you must make a separate appointment.
Can I make multiple appointments under my name?
NO. Only appointments for yourself, parent or child will be accepted. All your appointments will be canceled by the embassy.
If you are caught making two or more appointments under one name, you and any other applicants associated with you will be blacklisted by the embassy.
I keep getting this error message: The system has been down temporarily. Try again later. What does it mean?
There is: The system has temporarily failed. Try again later.
You can just refresh the page as it keeps giving this error no matter what you click on.
---
[ad_2]

Source link