[ad_1]

Are you brave enough to challenge the deepest pool in the world? Well, Deep Dive Dubai is here for you to experience.
*Trigger warning: This is not for people with thalassophobia. This article contains photos that others may find uncomfortable. Thank you!
How deep can you go when swimming in a pool? 5ft? 6 ft? Or even a 7ft? How about a 60 m (196 ft) pool? Yes, that pool exists, and it's in Dubai!
Deep Dive Dubai is a once-in-a-lifetime experience for thrill seekers. We've heard skydiving – flying like a bird thousands of feet above, why not try diving a hundred feet below? If you are up for this activity then this article is for you as I will share with you our most recent experience in Deep Dive Dubai!
Other articles you can read:
The beginning of an exciting and exciting adventure
Here are some snaps from my friend, Hobograph and Nemanja's cool adventure, at Deep Dive Dubai.
Deep Dive Dubai's 60m deep 'underwater city' includes 'abandoned' houses and an arcade to explore! Cool, isn't it? Unfortunately I couldn't try this as I had surgery a few weeks ago, but I hope I can try this when I get back.
The good thing about Deep Dive Dubai is that they have that too an introductory dive for beginners. So if you've never dived before, you'll get the chance to try it FIRST TIME in the deepest pool in the world! Speaking of bragging rights, haha!
The dive!
I'm not going to lie, when we arrived at Deep Dive Dubai and saw the pool it was too overwhelming to look at – "This pool isn't playing! So deep!" I thought to myself. But hey, I'm adventurous and I like the thrill, so I'm 100% willing to try! Then I remembered that I can't do it this time because of my recent surgery. Another reason to go back! LOL
Luckily my friend, Hobograph and Nemanja were able to try it and I can still share the experience they had with you.
The pool at Deep Dive Dubai is not the usual pool where there is nothing to see below. I mean, yes, it's deep, but other than that, there's more to explore once you dive.
Diving here feels like entering a new world! It's like going for a swim in an ocean (except there are no fish and reefs of course). There's even a shopping cart! haha! Fancy going shopping?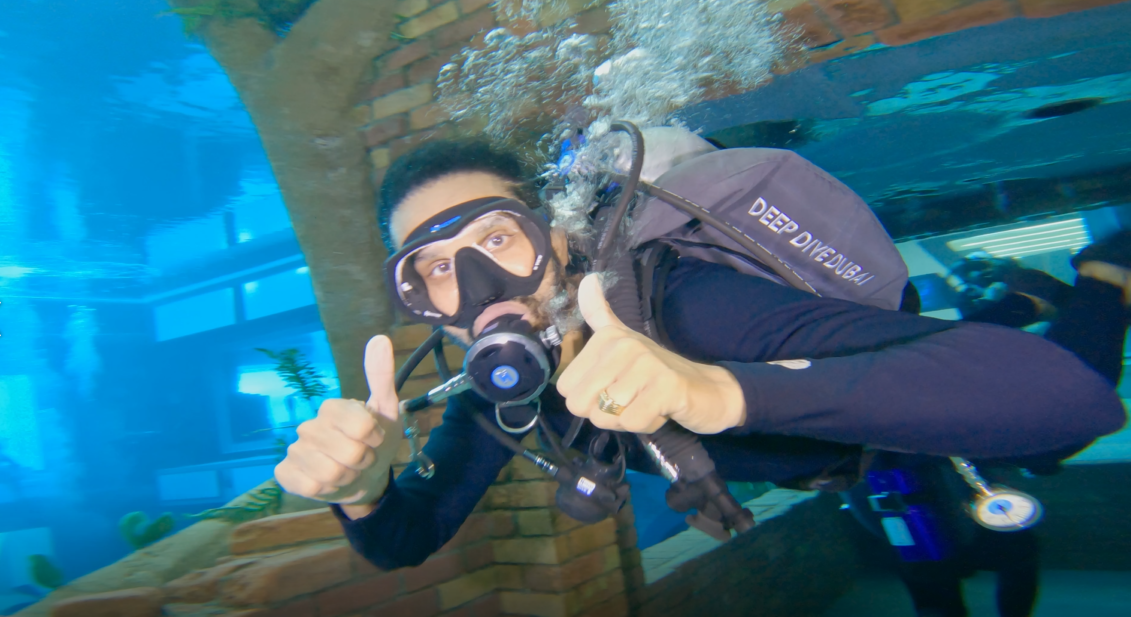 They provide all the equipment, so all you need to do is listen to the instructions, have the courage to dive and enjoy the experience! If you want to try it with your kids, no problem as long as they are 10 years and older.
I was really jealous when I saw them swimming! I really wanted to go in and join them, but I just couldn't. This was the moment that I know that I will definitely go back to Dubai for this. I really can't wait to do this activity! So I think I need to finish my goal to visit all countries in the world right away so I can go straight to Dubai and go diving at Deep Dive Dubai. haha!
What you need to know about Deep Dive Dubai
As I mentioned, even beginners are welcome to dive. Even if you have no experience with diving, no problem! There are instructors who can teach you. However, those with pre-existing medical conditions that prohibit anyone from diving should not attempt the activity (just like what happened to me). You can check the full medical condition of Deep Dive Dubai here†
For those who are certified divers, the diving depth will depend on your certification. According to Deep Dive Dubai, the diving depth conditions are:
As permitted by certification and recent experience

Novice divers up to 20m with recent experience

Advanced divers up to 30 meters with recent experience

Trimix has trained technical divers up to 60 meters with recent experience
If you are serious about diving and want to make it a new hobby, you can enroll in Deep Dive Dubai's Scuba Courses. They provide all the equipment you need, a friendly instructor, certification and more necessary things you need during the course.
You can view all their rates and book an experience instantly here†


[ad_2]

Source link